English
Rakshabandhan (Rakhi) Wishes, Messages & Quotes
Raksha Bandhan is an auspicious festival that celebrates the beautiful bond of brothers and sisters. It is a promise made by the brothers to protect and care for their sisters throughout their lives. A beautiful thread called 'rakhi' symbolises their treasured bond of love, care, devotion, admiration, and adoration. The sisters tie a rakhi on her brother's wrist to say hello.
Rakhi Messages for Brothers & Sisters
Rakshabandhan (Rakhi) messages from sister to brother: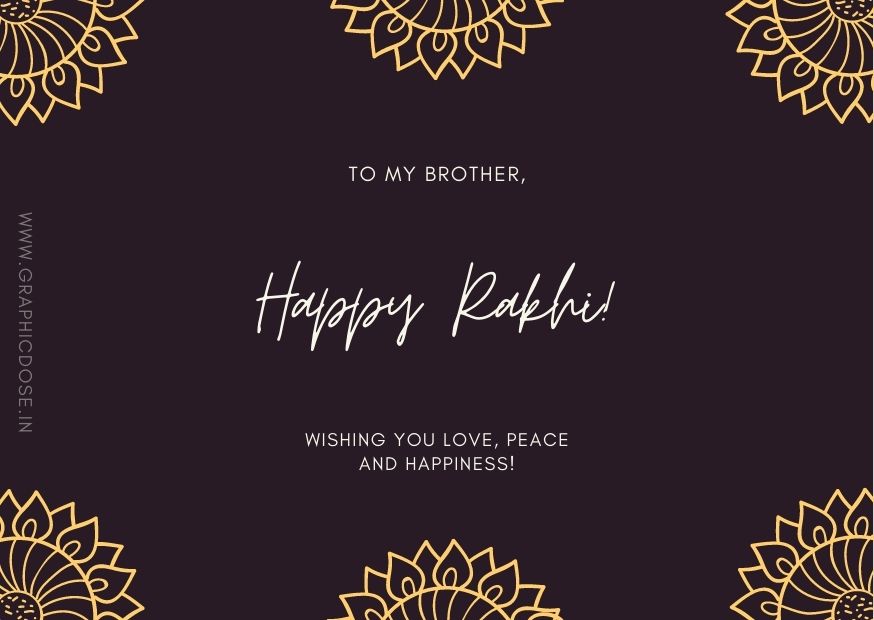 Thanks for always being my pillar of strength. I am very blessed to have a brother like you. Happy Raksha Bandhan!
A very big thank you for being my companion, my protector and being equally weird with me. You are the best brother in this world. Happy Raksha Bandhan!
You supported me while I was in distress; you protected me when I was scared and all other things you did to make me happy. Thanks are just insufficient to express my gratitude. Happy Raksha Bandhan to you Brother!
Brothers are like lampposts along a dark and lengthy road called life. They don't make the distance any shorter but they illuminate the path and make travelling worthwhile. Love u Brother.
You are the only person who supports me in my hard times; you are the one who shakes a leg with me in my happiness. There was no single day in my life when you weren't there. I really love you my big brother.
You have always been my motivation making the impossible of things possible always. That's my bro, no less than a superman making paths smoother. I love you bro.
You have always been my best friend, holding my hand, making sure the road I travelled on free of obstacles. There cannot be a better brother than you in this whole world. Wishing you the best in life always. Happy Raksha Bandhan!
I pray for your happiness, prosperity, and long life, sweetest brother. Sending loads of love and best wishes. Happy Raksha Bandhan.
---
Rakshabandhan (Rakhi) messages from brother to sister:
Siblings share a strong bonding of love. The festival, like raksha bandhan refresh those memories and take us back in our childhood. We hope you are able to spend this celebration with your family, but if for any reason you are unable to do so this Raksha Bandhan, don't be disappointed. Sending a wonderful gift and a gorgeous raksha bandhan might still make your sister feel your presence.
We make a good team, you are a funny one and I am the smarter one. Ok, don't feel bad, Happy Rakshabandhan. 
Happy Rakshabandhan to my cute and adorable sister. I wish I could say this to the witch reading this message.
Thanks for keeping all my secrets, thanks for supporting me always, even when I am wrong, thanks for trusting me, thanks for loving me. Happy Rakshabandhan Sis!
Being a brother of successful sisters is a mixed feeling of pride and embarrassment. But, I'm so proud that you both have never let me feel down. Lots of love to both of you and happy Raksha Bandhan.
It is again the time to refresh old memories and rejoice in the occasion. Let's meet at home for Raksha Bandhan. Lots of love!
I am grateful that I have a sister like you who call me brother. No one would understand the feeling of being alone in the world. Happy Raksha Bandhan!
Wish you a happy Rakshabandhan dearest sister. When you are around, I could never be in any trouble. Thanks for supporting me always. 
Brothers and sisters are always there to support each other, and I am the lucky one because I have two sisters to support me. From the depth of my heart, I wish you both Happy Rakshabandhan.
Happy Rakshabandhan to my dearest sister! I know, it would be difficult for you to come home today, my support is there for you in all your decisions. Enjoy and have fun.
Happy Rakshanbandhan to you my sweet and lovely sister. May your beauty never fades. 
"Where is my gift." The first question u ask every Rakhi. Today im waiting for u with a special gift.