English
Famous Matrix philosophical quotes will change perception about world
"The Matrix series" quotes always felt too real as we see the world, isn't it? Many times we may get lost in those quotes whenever it goes from front of our eye.
May be Matrix quotes are philosophical but surely it changes our perception about the world a way we see it. It twists the reality into virtual world. Our life may not be simulation but our thoughts are going towards it. When we will touch future of life with virtual reality, then nothing will be actual.
We are diving into famous quotes from famous Matrix characters!
Matrix quotes character wise,
#1 Matrix Quotes by NEO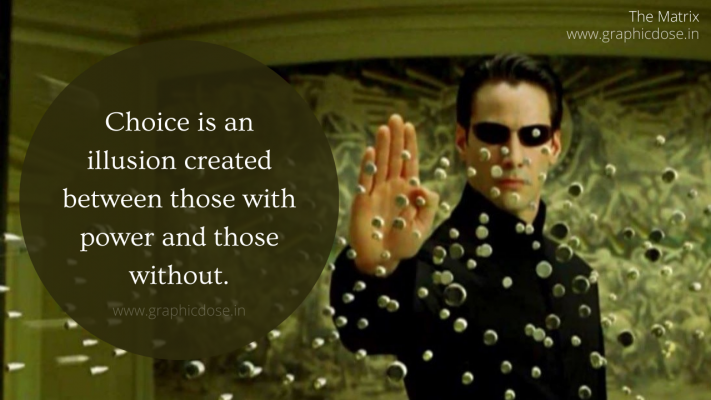 Choice is an illusion created between those with power and those without.

Neo 'The Matrix' (1999)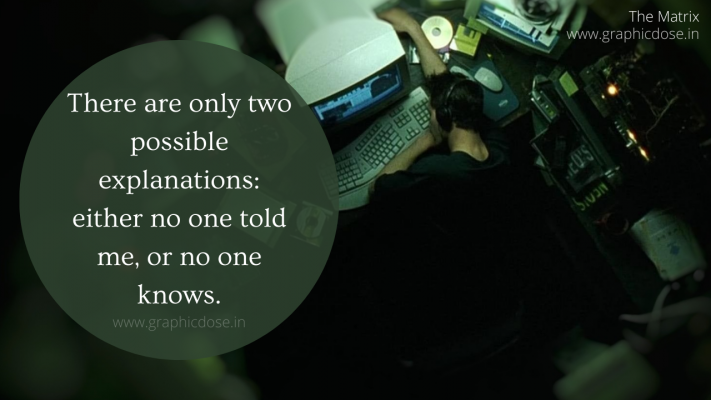 There are only two possible explanations: either no one told me, or no one knows

NEO "The Matrix Series"
You ever have that feeling where you're not sure if you're awake or still dreaming?

NEO "The Matrix Series"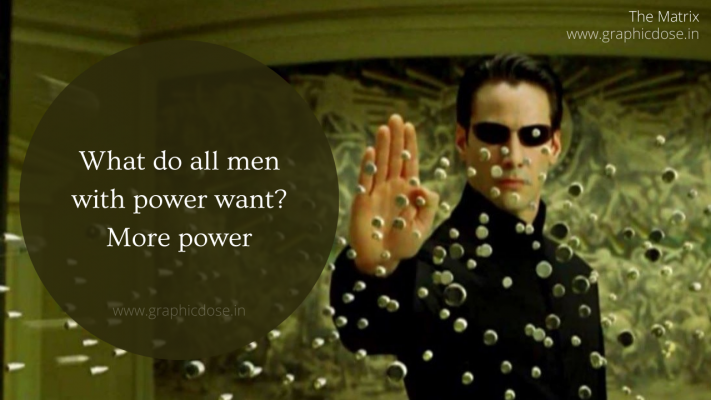 What do all men with power want? More power

NEO "The Matrix Series"
I don't like the idea that I'm not in control of my life

NEO "The Matrix Series"
If I were you, I would hope we don't meet again

NEO "The Matrix Series"
I don't know the future. I didn't come here to tell you how this is going to end. I came here to tell you how it's going to begin.

NEO
#2 Matrix Quote by Trinity
Touch me and that hand will never touch anything again

Trinity "The Matrix Series"
You can't be dead because I love you.

Trinity "The Matrix Series"
A déjà vu is usually a glitch in the Matrix. It happens when they change something.

Trinity "The Matrix Series"
Neo, I'm not afraid anymore. The Oracle told me that I would fall in love and that that man… the man that I loved would be The One. So you see, you can't be dead. You can't be… because I love you.

Trinity "The Matrix Series"
Six hours ago, I was ready to give my life for you. Do you know what has changed in the last six hours?

Trinity "The Matrix Series"
You wanna make a deal? How about this? You give me Neo or we all die, right here, right now.

Trinity 'The Matrix Revolutions' (2003)
you have been down there Neo, you know that road

Trinity: The Matrix (1999)
The answer is out there, Neo. It's looking for you. And it will find you if you want it to.

Trinity "The Matrix Series"
#3 Matrix Quote by Morpheus
"You take the blue pill, the story ends, you wake up in your bed and believe whatever you want to believe. You take the red pill, you stay in wonderland, and I show you how deep the rabbit hole goes."

Morpheus from "The Matrix (1999)"
"You have the look of a man who accepts what he sees because he is expecting to wake up. Ironically, that's not far from the truth."

Morpheus "The Matrix (1999)"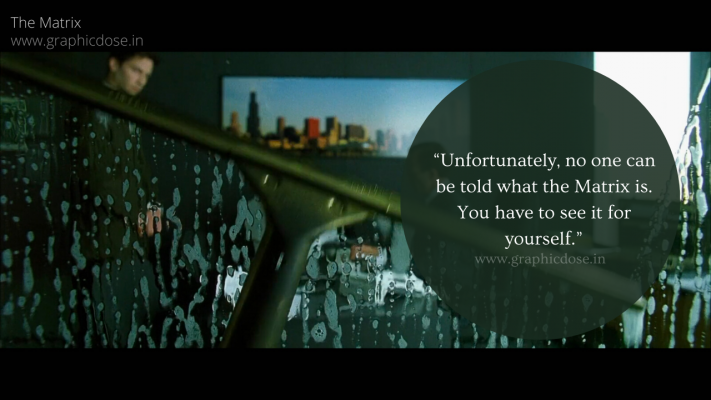 "Unfortunately, no one can be told what the Matrix is. You have to see it for yourself."

Morpheus "The Matrix (1999)"
"What you know you can't explain, but you feel it. You've felt it your entire life, that there's something wrong with the world. You don't know what it is, but it's there, like a splinter in your mind, driving you mad."

Morpheus "The Matrix"
"Have you ever had a dream, Neo, that you were so sure was real? What if you were unable to wake from that dream? How would you know the difference between the dream world and the real world?"

Morpheus "The Matrix"
"What is real? How do you define 'real'? If you're talking about what you can feel, what you can smell, what you can taste and see, then 'real' is simply electrical signals interpreted by your brain."

Morpheus quote "The Matrix"
"I stand here, before you now, truthfully unafraid. Why? Because I believe something you do not? No, I stand here without fear because I remember. I remember that I am here not because of the path that lies before me but because of the path that lies behind me."

Morpheus quote "The Matrix"
"Believe me when I say we have a difficult time ahead of us. But if we are to be prepared for it, we must first shed our fear of it."

Morpheus quote "The Matrix"
"There is a difference between knowing the path and walking the path."

Morpheus quote "The Matrix"
"You have to understand, most of these people are not ready to be unplugged. And many of them are so inert, so hopelessly dependent on the system that they will fight to protect it."

Morpheus quote "The Matrix"
"The Matrix is a system, Neo. That system is our enemy. But when you're inside, you look around, what do you see? Businessmen, teachers, lawyers, carpenters. The very minds of the people we are trying to save. But until we do, these people are still a part of that system and that makes them our enemy."

Morpheus quote "The Matrix"
"The Matrix is a computer-generated dream world, built to keep us under control in order to change a human being into this."

Morpheus quote "The Matrix"
"The body cannot live without the mind."

Morpheus "The Matrix series"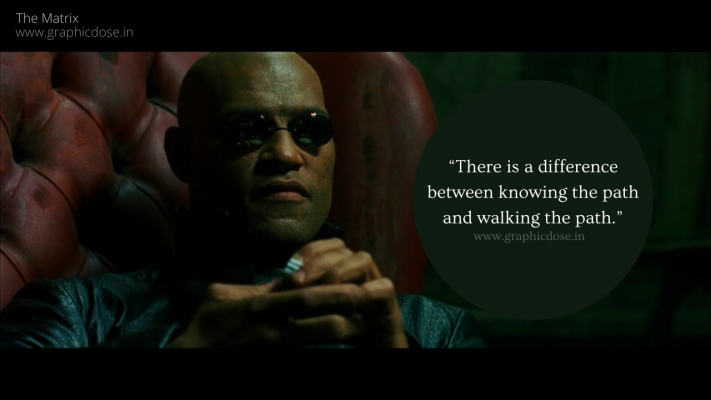 "There is a difference between knowing the path and walking the path."

Morpheus "The Matrix series"
"Don't think you are, know you are."

Morpheus "The Matrix series"
"Stop trying to hit me and hit me!"

Morpheus "The Matrix series"